A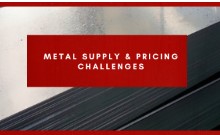 ccording to steel service center, Beaver Steel, the metal industry – and those who rely on it – is truly in unprecedented times. Steel, in particular, has tripled since October 2020 and aluminum has practically doubled in cost. Prices are rising so quickly, many companies, like Beaver, are honoring prices only until the end of the business day once a quote is submitted.
Right behind cost, is the issue of availability. Earlier this year, Fabricating & Metalworking Magazine reported in their article "Lead Times A Growing Concern", that the shortage of metal supply is alarming. Lead times for steel have also more than tripled in five months. Fast forward to today, the situation is no better. If you are like most customers, your main two concerns are:
1.  How much will it cost to produce my order?
2.   What is the lead time?
We'll get to cost in a moment, but regarding lead-times, THAT, can be a tricky question to answer.
If the steel service center has material in stock when your fabricator places their order, you can do a happy dance and go on about your day. But if they are out of stock, the question becomes more about the timing the order was placed and the date of their expected replenishment. To further compound the issue, understandably, the service centers are hesitant to hold stock when prices are exceedingly high. Nobody wants to find themselves without a seat if the music should stop and metal prices plummet. It's an extremely difficult situation to navigate up and down the supply chain. Costs on the other hand can be somewhat mitigated with careful planning and communication.
What to do?
First and most importantly, now more than ever, it is SO important to communicate with your customers and vendors. Understanding customer needs now and in the longer term, will help with vendor planning – and may lock in lower prices as materials continue to rise.
At Mika, we're taking our own advice to help our customers navigate these challenging times. Having been in business for 82 years, we have developed extremely strong industry relationships with metal service centers, hardware and other suppliers. Regular communication helps us take advantage of cost savings, shorten lead times and more importantly, minimize the chance that customer products go on back order.
To accomplish this we are suggesting weekly, bi-weekly or monthly meetings as necessary with clients, to develop a strategic game plan for the next 30-60-90 or 120 days. Doing this, allows us to deliver a steady stream of product, sometimes on a daily or weekly basis, as it is produced to completion. Ryan Thomas, President of Mika Metal says, "We have this ability, due to our highly tenured, cross-trained and flexible production staff. We can be very nimble, switching gears quickly as materials arrive on our floor. Every day is a juggling act, but we're doing what's necessary to keep our customers in product. We completely understand if we don't deliver, our customers can't deliver. We take that very seriously".
While these challenges look as though they will be with us until at least the end of 2021, by working diligently together, we will weather this storm with less bumps along the way. If you would like to arrange time to put together a plan for your immediate and future needs, please visit https://mikafab.com/contact/ or call Rebecca Cole at 440-984-6061.
https://www.mikafab.com/wp-content/uploads/mika-nav-logo-3.png
0
0
Rebecca Cole
https://www.mikafab.com/wp-content/uploads/mika-nav-logo-3.png
Rebecca Cole
2021-07-06 02:31:07
2021-07-08 10:57:55
Metal Supply & Pricing Challenges