Mika Metal Fabricating Fans First, Team Always Culture
Back in 1939 when Fred J. Mika started a business making custom HVAC duct work, then ammunition boxes during WWII, he probably never imagined over 80 years later the company would still be in existence bearing his paternal name. Throughout its history, Mika has shaped and formed much like the metal it worked with, to established itself as a highly regarded custom sheet metal fabricator making products and component parts for nationally recognized brands.
From those early beginnings in a small two-story building east of downtown Cleveland, Ohio, Mika now under new ownership as of September 2020, spans 80,000 sq. feet to serve the medical, surgical, electronics, energy, electrical and general industrial markets.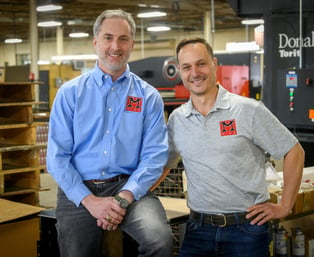 "We are excited to continue the legacy Fred Mika started over 80 years ago. We plan to apply new technologies that will increase efficiencies on the floor, while empowering a highly experienced staff to take more active leadership roles across the organization", said Scott Shelfer, Chairman and Ryan Thomas, President of Mika.
"Our Fans First, Team Always Core Values are at the center of everything we do", says West Point grad and former Army Commissioned Officer, Thomas. Shelfer, a long time Cleveland transplant from Miami, Florida with a flair for entrepreneurial turnarounds adds, "this culture drives employee and customer satisfaction through honest, transparent communication, making Mika Metal a place people want to work and who customers want to engage with. Combined, it forms the cornerstone of our competitive advantage".
In the spirit of Team Always, the company is nearing Phase I completion to upgrade production and office spaces. On the shop floor, they have been busy installing energy efficient LED lighting and wi-fi, adding safety and security systems, beta testing job tracking hardware and software, purchasing small capital equipment, implementing the latest in time clock technology using retina scanners along with improving ventilation and performing general clean-up. The offices have been refreshed with new ceiling tiles, paint, floor restoration, LED lighting, television monitors, remodeled bathrooms and upgraded kitchen area.
In order to put Fans First, the organization is implementing the latest web-based technologies across key areas of the organization such as estimating, inventory management, sales and marketing to streamline processes that will help keep costs down, reduce lead times and generally enhance customer experience.
Mikas' specialties include, but are not limited to, autoclave sterilization trays, medical/surgical carts, propane dispensing units, electronics control enclosures, industrial cabinets and racks manufactured from carbon steel, galvanized steel, stainless steel, perforated stainless steel and aluminum.
https://www.mikafab.com/wp-content/uploads/mika-nav-logo-3.png
0
0
Rebecca Cole
https://www.mikafab.com/wp-content/uploads/mika-nav-logo-3.png
Rebecca Cole
2021-05-07 04:17:41
2021-07-08 10:58:01
Mika Metal Fabricating Fans First, Team Always Culture